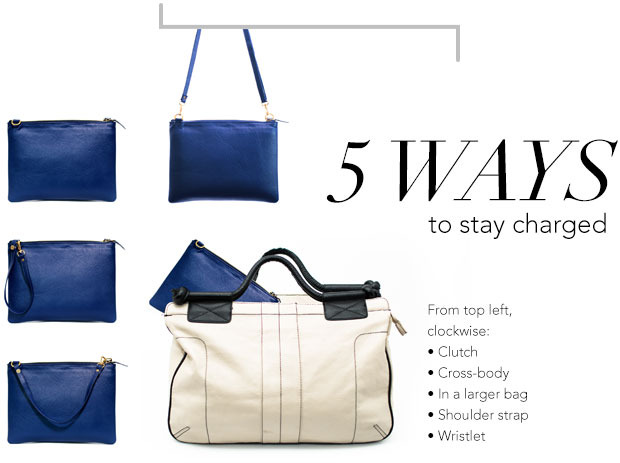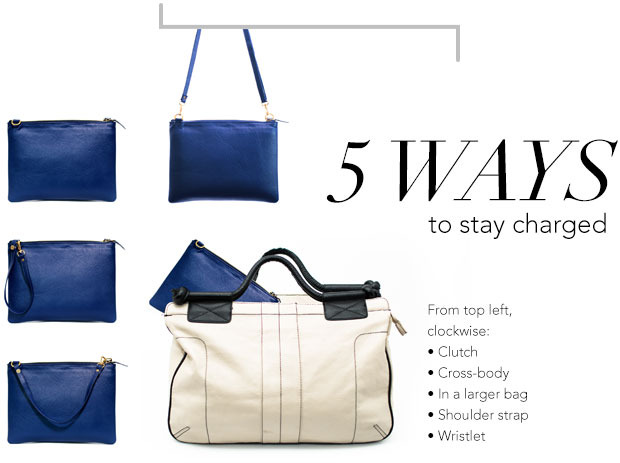 This past weekend while heading out to meet friends for drinks, my boyfriend and I both realized that our phones had less than 10% battery. For some people this might not be a bid deal, but I get panicked when I am without a phone! To make a long (& boring) story short, I was a huge diva and made us late so I could get a slight charge on my phone. What can I say sometimes I'm a bit crazy! Luckily for my man, and our friends for that matter, I recently came across a purse that can charge your phone while you are on the go!
We all know that wearable tech isn't always fashionable but the Everpurse actually is! The purse can be styled as a crossbody, clutch, or wristlet depending on your fashion needs for the night. The size is 9.5" x 7", making it the perfect size to fit all your going out essentials. They currently come in a beautiful sapphire, black, and nude (light blush) leather and will hold a battery life of 48 hours! Recharging the bag is also super simple with the use of their docking station. All you need to do is simply lay your purse on top of the "charging mat" and in about six hours it will be fully charged!
The purse is currently configured to work with all iPhone 5 & 6 models and the Samsung Galaxy S4. I'm pretty sure that this is going to be my next "treat yo self" purchase, but it would also be an incredible gift for the holidays. If you're interested, I highly recommend heading over to their current Kickstarter campaign. This is the last week you can get the purse & charging mat for $149 ($100 less than retail) if you help fund them through their Kickstarter campaign.